Regular price
₹ 649.00
Sale price
₹ 599.00
Unit price
per
Sale
Sold out
Share
Description

Contains: Sealed bottle of coconut oil

Ingredients: Natural and Pure Coconut Oil (No preservative, no adulteration, no processing)

Size: 1 Ltr & 500 ml

Shelf life- 24 Months from date of packaging. We take care that products sent out are from the most fresh batch.

Storage Instructions: Keep in room temperature.
FAQ

Q1. What is the difference between refined and cold-pressed oils?

A1. Refined oils are colourless, odourless and flavourless fluids. The regular refined oils are extracted using solvents and grinding them at high speed, which can generate heat up to 100°C, which degrades the oil's taste and nutritional composition. Trans fats are produced in this process, making them unfit for your heart. While our cold-pressed oils are extracted through pressing and grinding of seeds below a temperature of 50°C. Though it is a slow and time-consuming process, they retain their natural flavour, aroma, and nutritional value. They are high in antioxidants and vitamins and contain good fats for a healthy heart.

Q2. Does it solidify and melt on its own?

A2. The coconut oil remains liquid at room temperature while solidifies at lower temperatures, especially during winters.

Q3. Can I use it for my hair and skin?

A3. Yes, you can apply our coconut oil to your hair and skin. Coconut oil is rich in fatty acids and antioxidants that help prevent damage to our skin and hair. It also has antibacterial and antifungal properties that help keep skin and hair healthy. Our coconut oil is 100% pure and chemical-free. Thus, it is safe to use unless you are allergic to it. However, we recommend first trying a patch test as a precautionary measure.
Shipping

We ship the order within 24 hrs from our Delhi warehouse. Order get delivered within 3-5 working days depending up on the location. As of now shipping is free in India.
View full details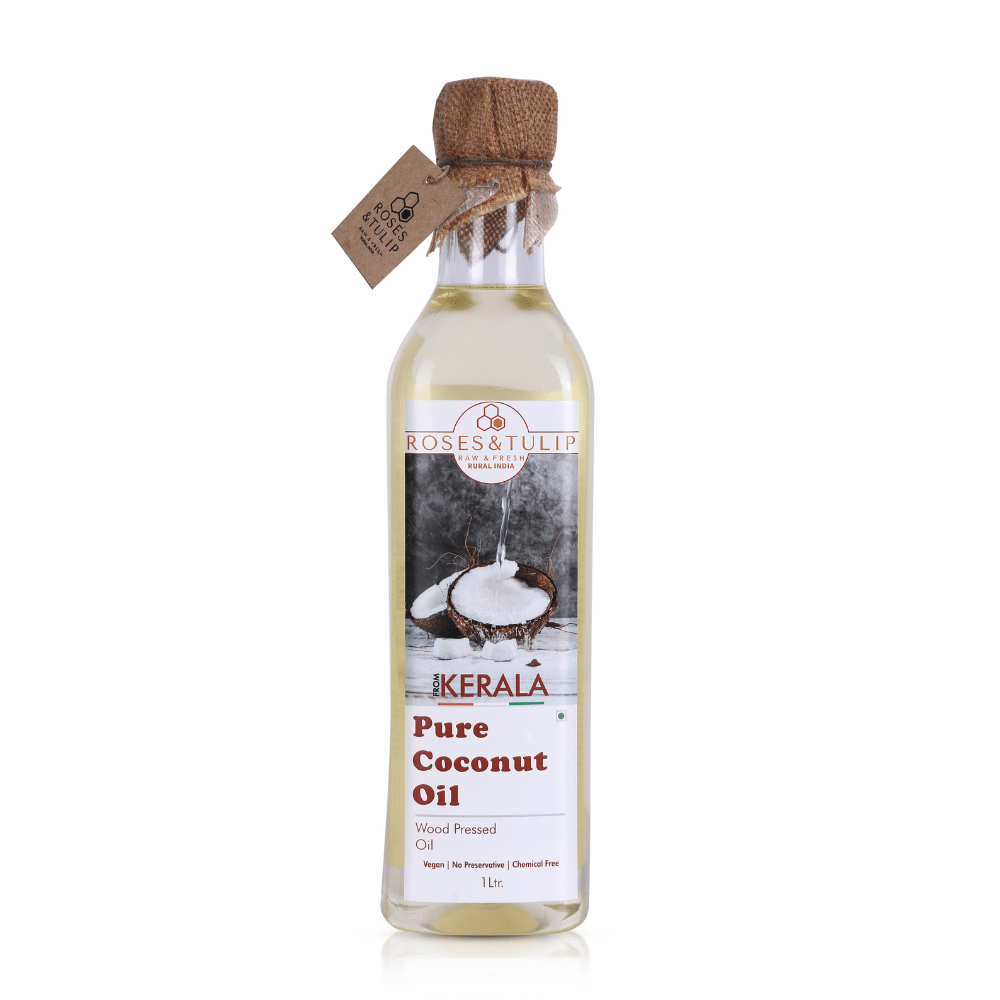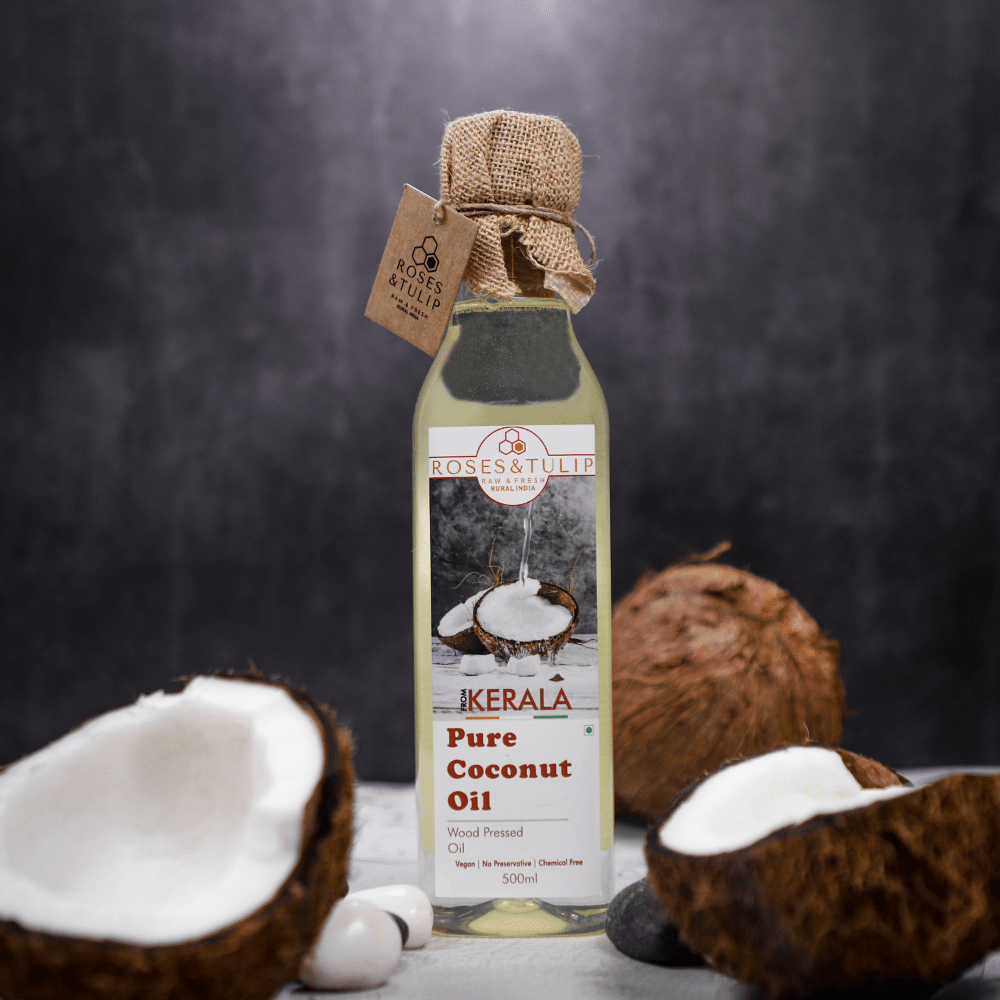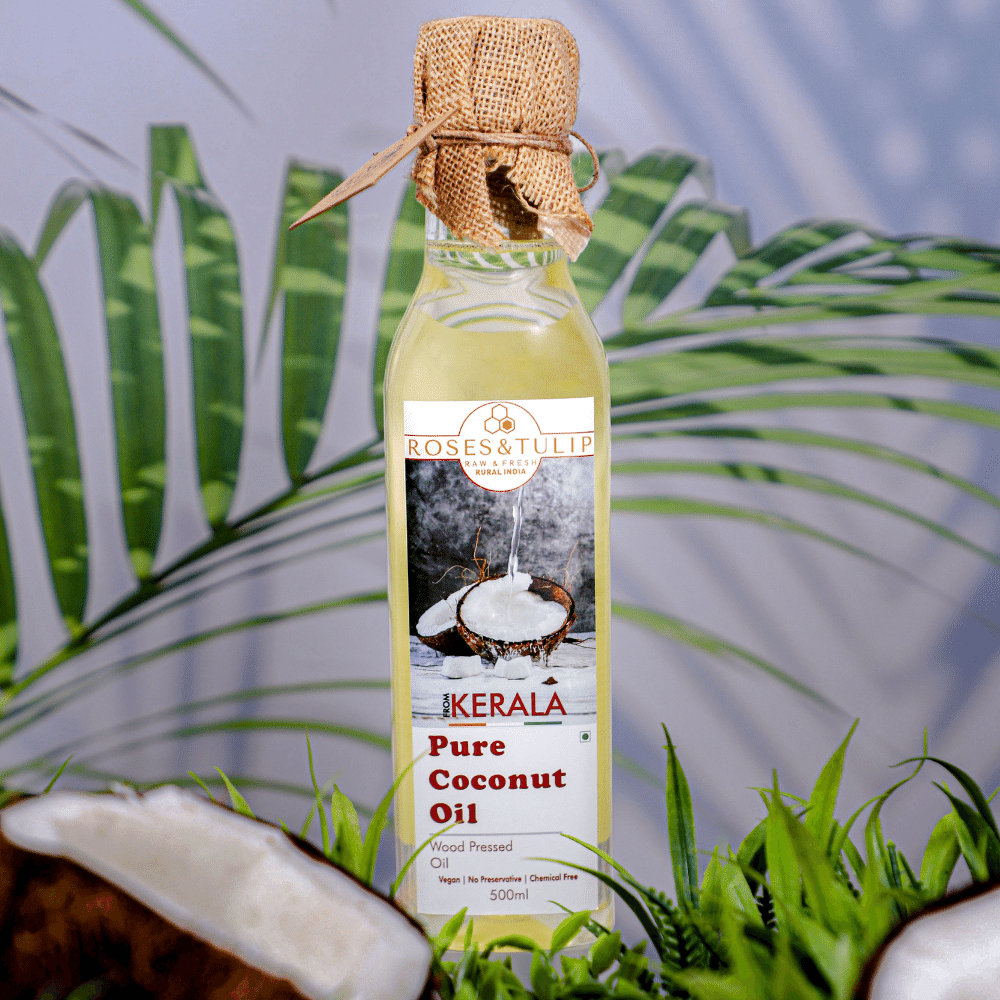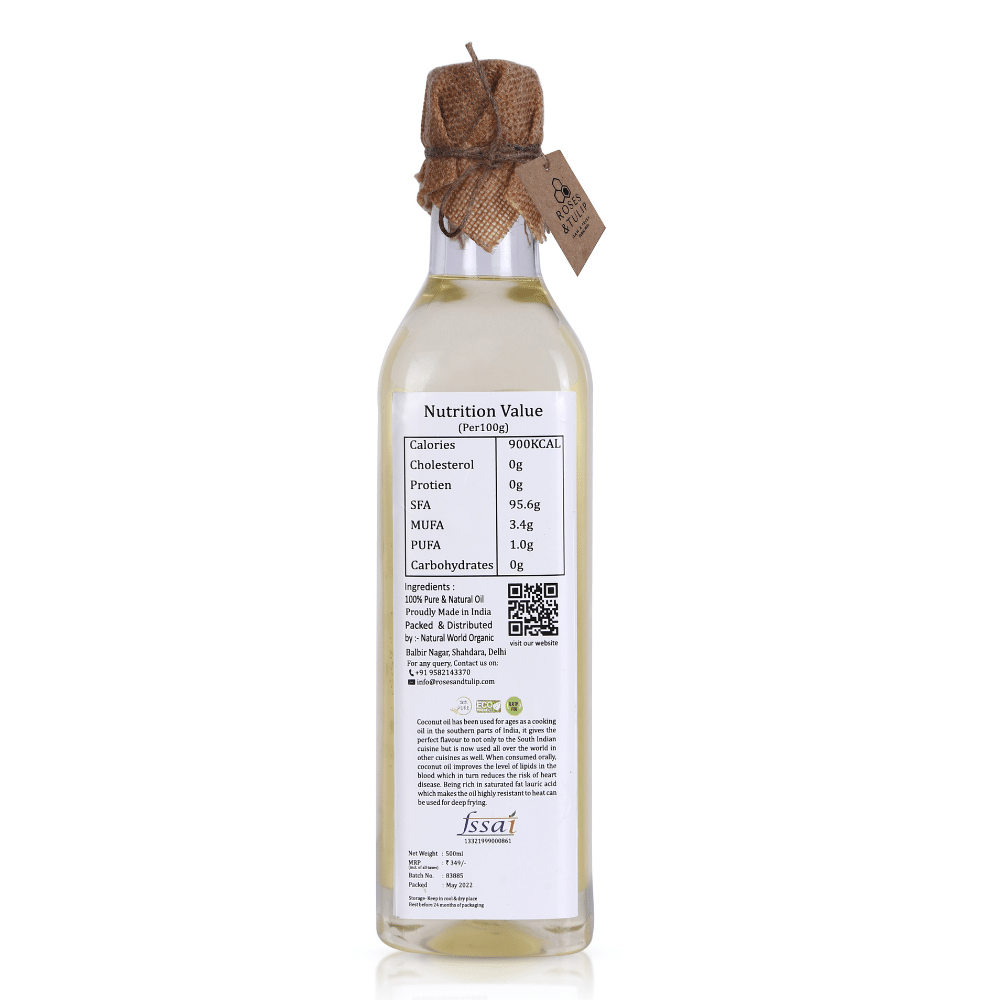 Know your Oil!
Roses and Tulip coconut oil is a special wonderful coconut oil extracted from fresh coconut without any chemical process, thus keeping its virginity intact. We source these coconuts from the Coastal region of Kerala. In order to preserve its nutrition we make sure that the oil is extracted using wood pressed method. Coconut oil can be aptly termed the mother of all oils as it is a treasure trove of vitamins, minerals, antioxidants etc. It is a major source of Lauric acid which is found only in breast milk-a nutrient that supports the body's immune system. Recent research verifies traditional beliefs that the coconut palm is " The Tree of Life" and that, just like any other pure, whole food, coconuts and
coconut oil have a significant role to play in a well balanced, nutritious diet.