Regular price
Sale price
₹ 1,099.00
Unit price
per
Sale
Sold out
Share
Description

Contains: Glass jar with wooden honey dipper

Ingredients: Natural and Pure Honey (No preservative, no adulteration, no processing)

Size: 250 gm / 500 gm / 1kg

Shelf life- 18 Months from date of packaging. We take care that products sent out are from the most fresh batch.

Storage Instructions: Keep in room temperature.

Warning: Honey should not be fed to babies below one year of age as they cannot digest it.
FAQ

Q1. Is your honey Pure?

A1. Our honey is natural & pure. There is nothing added or removed from the honey sourced by the bees. We are only able to provide you this pure and quality honey because of our trained beekeepers.

Q2. Is your honey jar a plastic jar?

A2. Currently all our honey comes in a glass jar. Our packaging make sure that glass jar reaches you safely. 

Q3. Why this honey is so expensive?

A3. Kashmiri Acacia is the best honey available in the world. It is even better than the popular foreign brands. We call it the most underrated honey in the world. It's production is extremely low because the geographical condition plays an important role in the process of honey production. It's production is extremely low & majority of it is exported to developed countries.

Q4. How much honey comes in 1 Tablespoon?

A4. In 1 Tbsp, you get around 21g of honey.
Shipping

We ship the order within 24 hrs from our Delhi warehouse. Order get delivered within 3-5 working days depending up on the location. As of now shipping is free in India.
View full details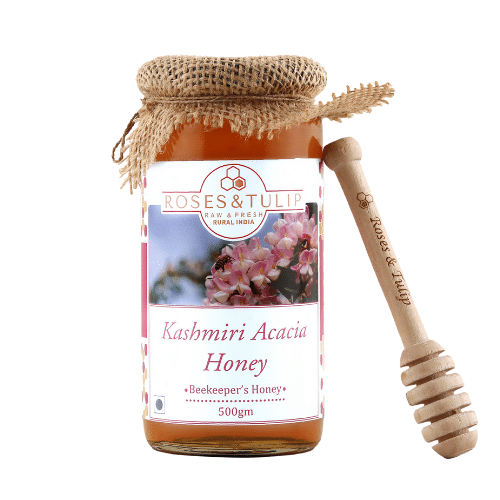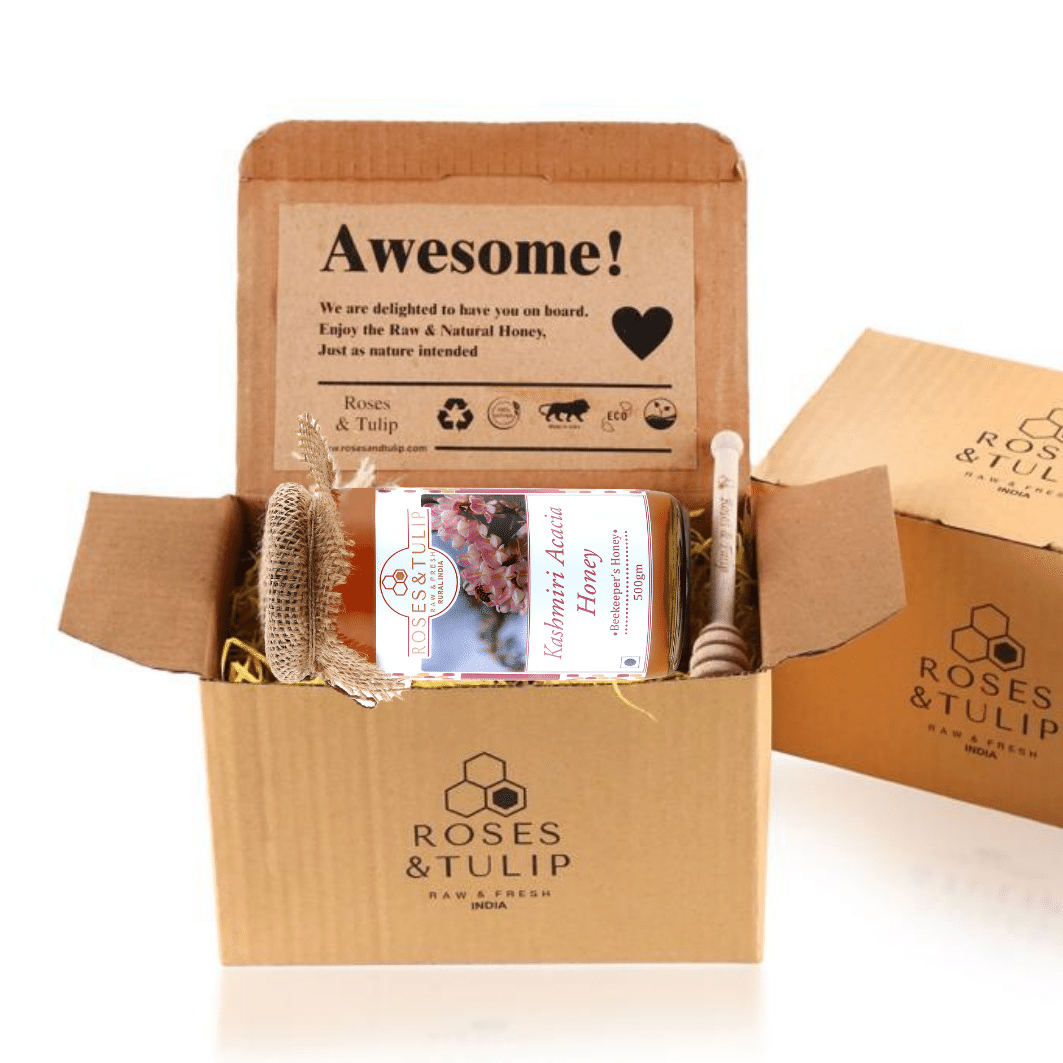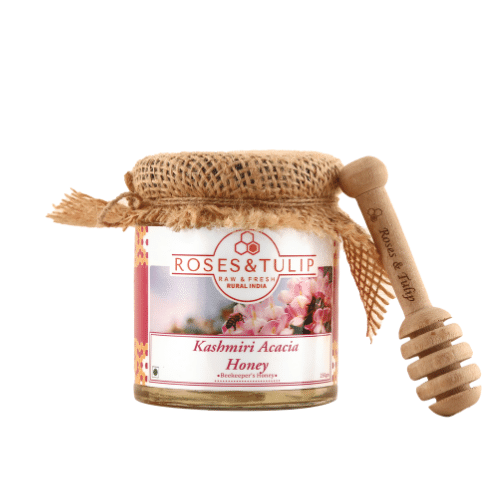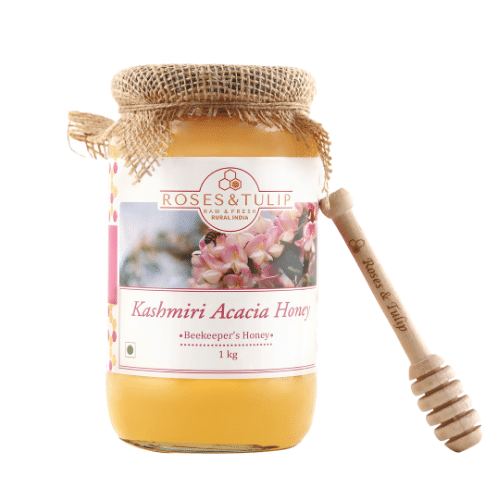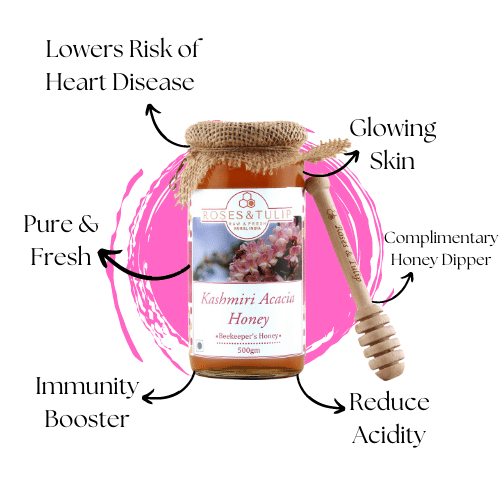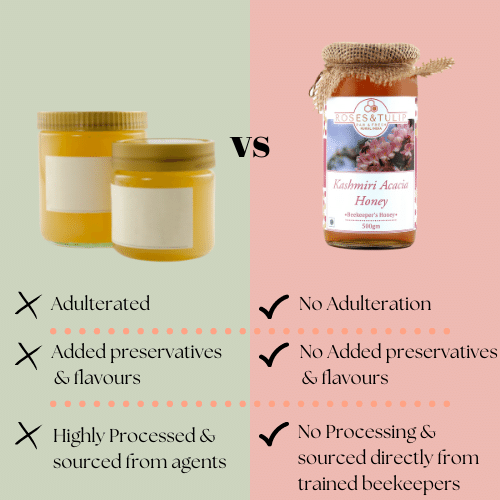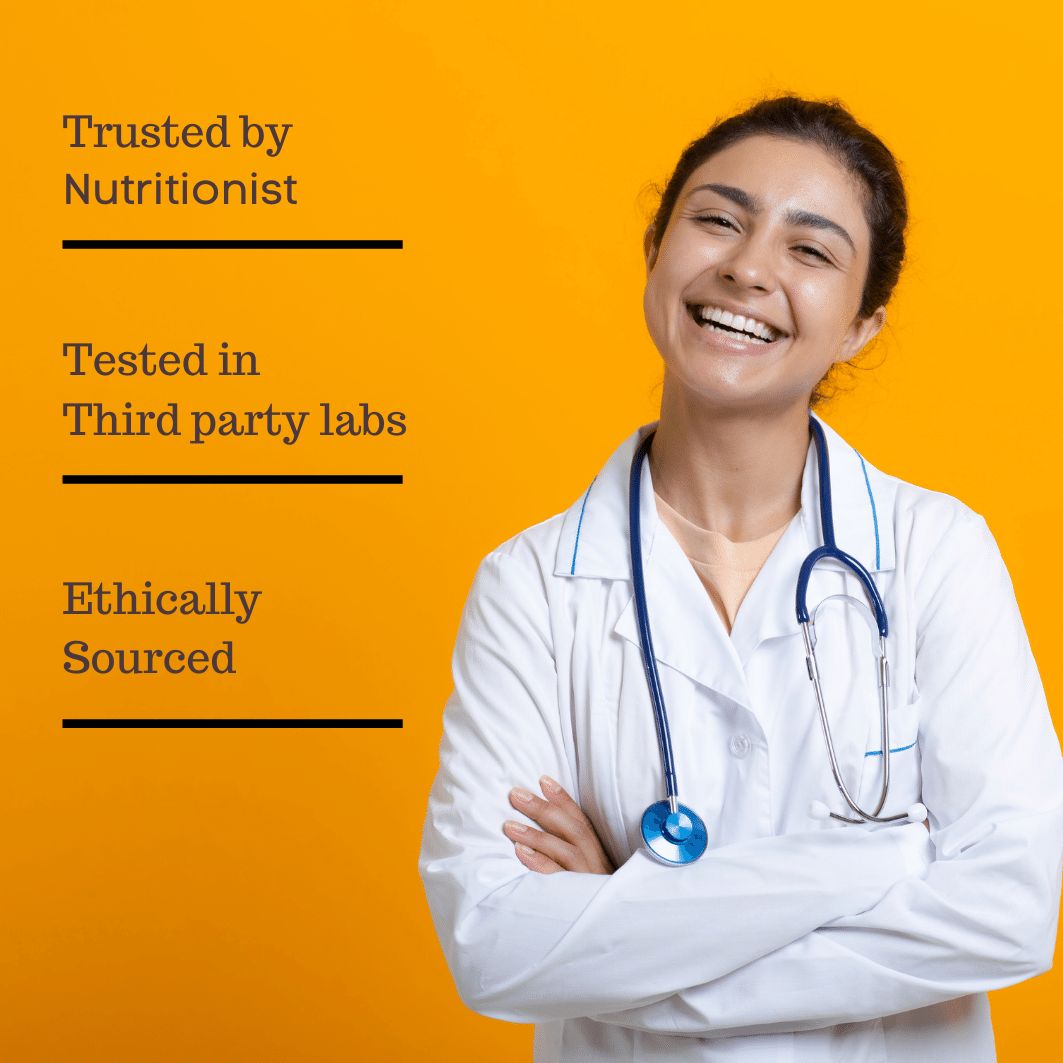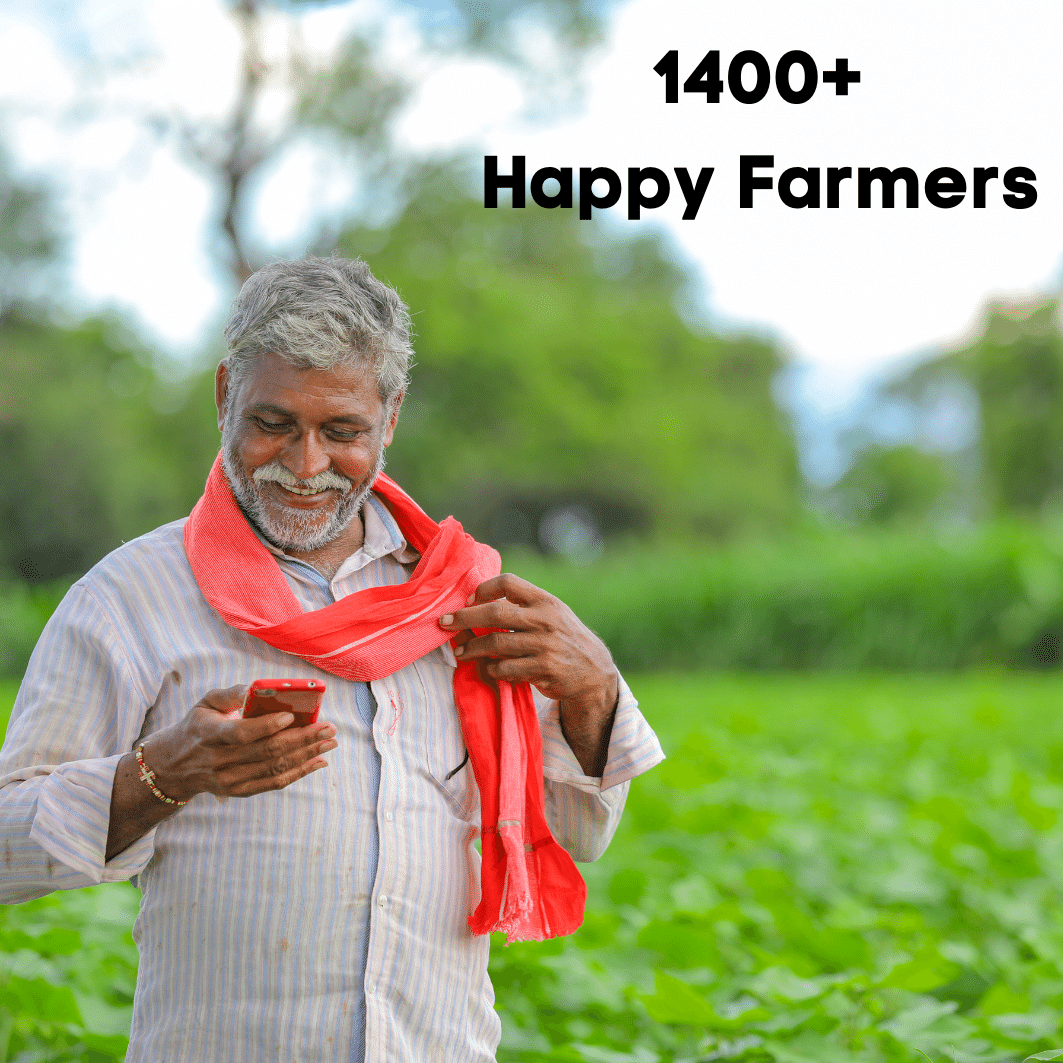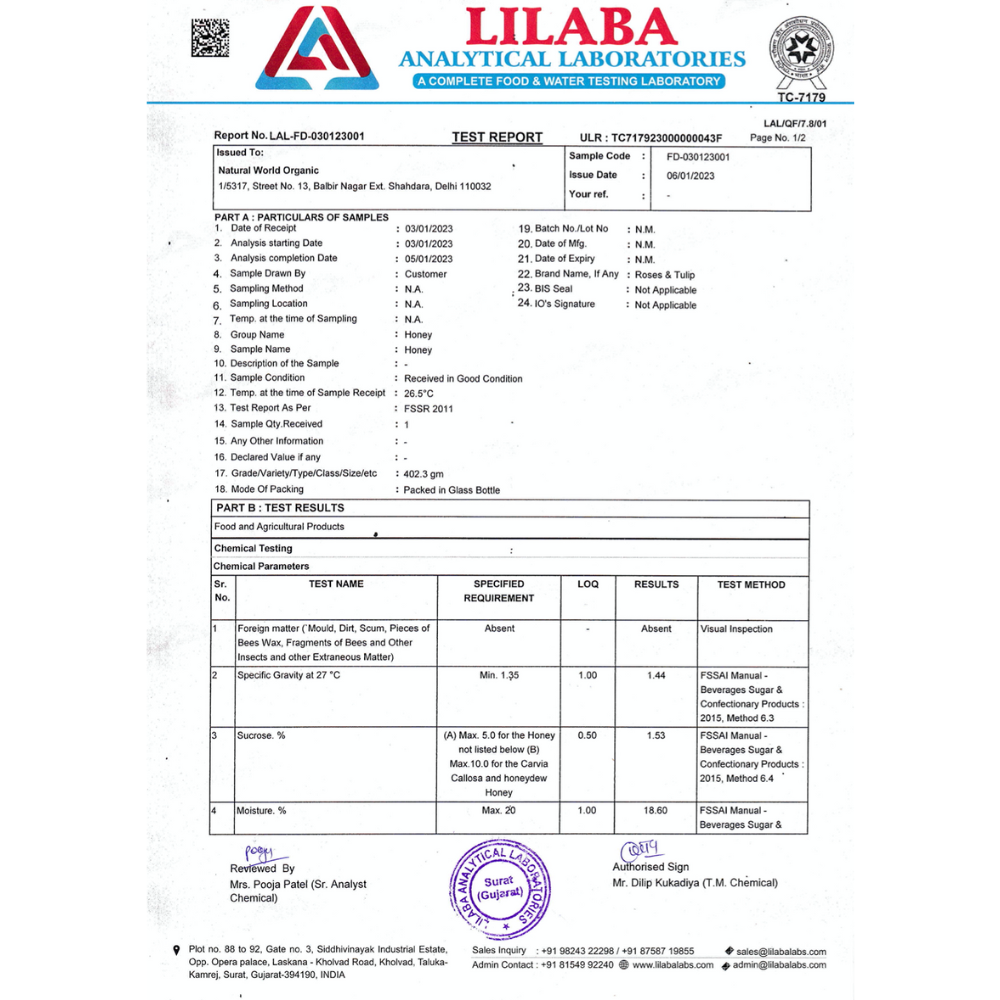 Know your honey
Harvested from the beehives located in the dense flora valley of Kashmir. This is our fruitiest honey which explodes your taste buds with sweet and tangy flavour. Only thing people regret about this one is that they didn't order much. This is the finest honey you will ever taste. Original Kashmiri Acacia is available in very small quantity & it is mostly used to export in the European countries. This is by far the best honey available in the world.
Benefits:
Help reduce acidity & ingestion, lower risk of heart disease and boost immunity, glowing skin.
Benefits
Glowing Skin

Weight Loss

Immunity Booster
Why our honey is so Expensive?
1. When the weather conditions are harsh on bees, the production of honey drops. Other beekeepers rely up on sugar feeding to the bees to get more production. However, we do not feed sugar to the bees. So, bees consume their own honey to survive which leaves us with very small quantity of extremely good quality & pure honey.
2. Organic honey takes more time to produce. Our beekeepers put the boxes in jungles where the flora is in abundant. They move to those inhabitant places to source the best quality of honey. To get such good quality of honey is extremely tiresome, difficult & time taking which affects the pricing of our honey. Also our packaging comes in glass jar, not in plastic jars. Plastic jars are cheaper, easy to handle but not good for honey. As honey looses its properties in plastic jars.
Pairings
Beverages

Gives a delicious, natural sweetness to iced teas, coffees, juices and smoothies. Delicious in black teas, green teas and herbal teas. Drizzle in hot cocoa or warmed milk.

Baked Goods

Adds a touch of sweetness to baked goods and desserts. Is the perfect all-natural substitute for sugar

Fruits and Nuts

Perfect for layering in parfaits, pouring over fruity pancakes and salads, adding to smoothies, brushing on fruit before grilling, drizzling on nut butters, taming the bitter or sour flavor of certain fruits and glazing different nuts.

Dairy

Sweeten milk and milk alternatives when making ice cream, pouring over cereals, adding to coffees and teas, or drinking straight. Drizzle over yogurt and ice cream. Include as a complement to mild and pungent cheeses.

Herbs and Spices

Infuse honey with different herbs and spices. Add to sauces with Italian seasonings, Indian cooking, Mexican dishes, stews, marinades, glazes, salad dressing and pizza dough.

Poultry

Produces a sweet, fresh flavor in BBQ and Chicken wing sauces, marinades and glazes. Rub on chicken, duck and turkey for an added sheen and crisp skin. Brush on grilled kababs and skewers for added flavor. Include in dipping sauces for fried chicken.